While going through my travel albums,  I saw the pictures of last year's trip to Rajasthan. I would love to go back there again, especially to Jaipur to relive the amazing royal experience at the Taj hotel there. There are several luxury hotels in Jaipur and it is a fallacy that you have to shell out big bucks to stay there. Since we had friends travelling with us,  we had to consider their budgets without compromising on my desire for a royal stay.  To my surprise,  I found quite a few upscale hotels in Jaipur that fit in with everyone's price range. Here are some of the options I had shortlisted before the friends decided to join in the trip as well as the ones I checked later to suit their budget.
The Taj Rambagh Palace
The number one on my list and where we initially planned to book our stay,  this was home to the Late Maharani Gayatri Devi. A breathtakingly beautiful palace with the exceptional Taj hospitality,  this is my first choice for a royal experience. Since we couldn't stay here,  we opted instead for the Taj SMS Hotel, which is, in a way, a part of the Rambagh Palace. The guest house of the original palace has been converted into the Taj SMS Hotel so you get the same Taj hospitality and a "similar" royal experience at a pocket friendly price.
The Oberoi Rajvilas
One of the best 5 star hotels in Jaipur, along with the Taj, the Oberoi is a super luxurious property built around an 18th century Shiva temple. With Mughal arches, gold leaf frescoes, crystal chandeliers, the Oberoi Rajvilas gives a luxury experience with Rajasthani charm.
The Shiv Vilas
This luxury,  palace-themed hotel is set amidst beautiful gardens and gives you the feel of living in a palace without being too heavy a burden on your pocket. The canopied beds, the intricate inlay work in the marble flooring, the fountains in the garden, all make you forget that this is in fact, a new hotel. You'll be forgiven for thinking that it is a palace because that is what they have created.
Jai Mahal Palace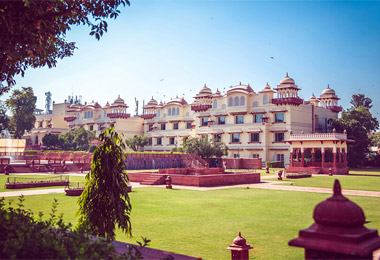 An 18th century palace converted into a hotel, again by the Taj group,  the Jai Mahal Palace is set among 18 acres of gardens. Beautiful,  opulent architecture combined with modern day comforts makes this hotel an excellent choice for a royal escapade.
ITC Rajputana
Created along the lines of traditional Rajasthani havelis with long corridors, secluded courtyards and intricate lattice work, the ITC Rajputana is part of ITC's luxury collection of hotels. This hotel has a more contemporary flavour as compared to the others offering a more heritage charm.
 The Raj Palace
While this hotel isn't as well known as the others in this list, it has been acknowledged as the World's Best Heritage Hotel!  In fact, this is the oldest palace in Jaipur and undoubtedly an excellent luxury hotel for a royal experience.
With so many amazing luxury hotels in Jaipur,  each offering unique royal experiences,  it is indeed difficult to make a choice.  Which one would you like to stay at?