During my teens, I was really lucky not to have any acne. But honestly, it had nothing to do with luck, but a lot to do with the products, I used, internally and externally,  that kept acne at bay. One of my favourite products was the Medimix Ayurvedic soap. Now, two decades later as I am trying to tackle adult acne breakouts, there's a new avatar of my once-favourite acne-buster, the Medimix Ayurvedic Face Wash which is soap-free and paraben-free and has 6 essential, skin-friendly herbs and is super affordable! Read on to know more…
Medimix Ayurvedic Face Wash Review
About Medimix Ayurvedic Face Wash
"Medimix Ayurvedic Face wash is a one stop solution for pimple free, beautiful and glowing skin. The unique blend of Turmeric,  Aloe Vera & Neem gently cleanses your skin, leaving it free of all impurities. The divine herb Lodhra acts as a healing agent, Manjishtha and Kushtha improves your skin texture. It also retains the natural balance of your skin, keeping it refreshed. "
Unlike most other face washes that claim to have just one or max two key ingredients (example aloe vera or neem), the reason behind Medimix Ayurvedic Face Wash's efficacy is it's power of 6 – the six "jadibootis" that help in keeping the skin healthy, acne-free and vibrant. Let's take a look at each:
Haridra / Turmeric (Curcuma Longa)
We Indians are no strangers to the miraculous healing powers of turmeric or haldi, whether consumed internally or applied externally. While the West waxes eloquent on the Golden Milk / Turmeric Latte, we've been warding off cold and cough with "haldi wala doodh" since millenia. Not only that, since ancient times, our brides have had a radiant glow thanks to the mandatory "haldi ceremony" that preceeds the wedding. Even before we start consuming solid food, as babies, our first encounter with haldi starts with the besan (chick pea flour) and haldi paste that the "maalishwali" rubs on our body to remove the oil that was used for massage. Not only is it an essential spice in all the kitchens acoss the country, it was also used as a paint in the famed frescoes of the Ajanta caves.
Turmeric has anti-fungal and anti-bacterial properties because of which it is such a favourite ingredient in ayurvedic medicines and skincare potions and of course, the Medimix Ayurvedic Facewash.
Kumari / Aloe Vera (Barbadensis Mill)
The gel in the leaf of the Aloe Vera plant is said to have cooling, soothing, moisturising and healing properties making it a favourite ingredient in skincare products. It is also rich in anti-oxidant vitamins such as A, C and F as well as certain essential amino acids. Since Aloe Vera has moisturising properties, it helps combat any drying effect the other ingredients of the Medimix Ayurvedic Face wash might have and it's soothing properties help in calming down inflammed, irritated, acne-prone skin.
Nimba / Neem (Azadirachta Indica)
Neem is another plant that has been used in Ayurveda since ancient times, both, in food preparations and in medicinal / cosmetic mixtures. All the parts of the neem tree – the leaves, the bark, the seeds and flowers are used, not only to cure different ailments but also as preventive medicine. This is because neem has anti-fungal, anti-bacterial and anti-viral effects. This makes Neem a wonderful acne-fighter as it keeps away the acne-causing bacteria. Several soaps and dusting powders in India too, use Neem in their ingredients as it helps keep away rash and body acne.
Lodhra (Symplocos Racemosa)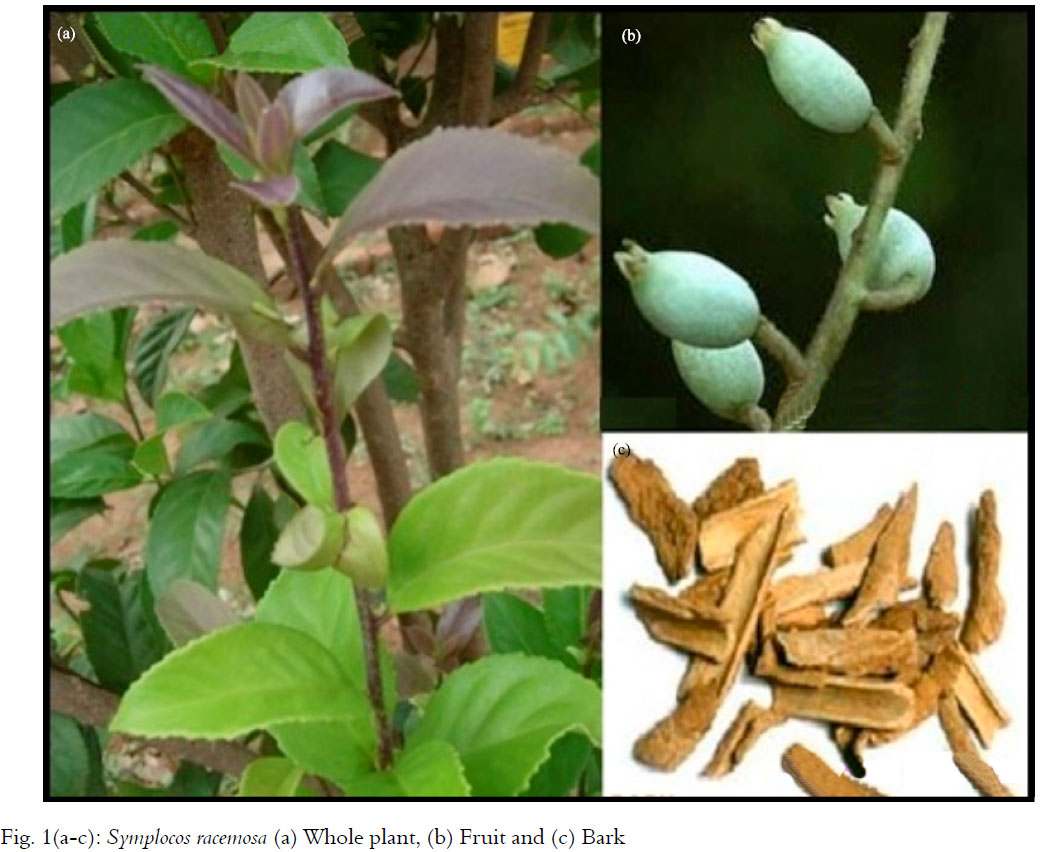 In Ayurveda, Lodhra is one of the most important ingredients for women's health. When used in skincare products, it helps in reducing acne and wrinkles and helps in improving the overall health of the skin. It is especially beneficial for oily and acne-prone skin. Because Lodhra helps cure not only skin ailments, but several others as well, it has been called as "Divya Aushadhi" or Divine Herb.
Manjishtha (Rubia Cordifolia)
Manjistha, or Indian Madder, is a well known blood purifier in Ayurvedic medicine. It is the main ingredient in the anti-acne syrup that I emptied bottles of as a teen and I can vouch for not just it's terribly bitter taste, but also it's powers in keeping skin clear, acne-free and glowing. Even when used in topical skincare such as creams, gels, lotions or face masks, it helps in clearing up acne and in keeping skin smooth.
Kushtha / Amaya (Aplotaxis Auriculata)
Now this is one ingredient that I couldn't find much information on besides the fact that it is a bitter root and used in Ayurvedic medicine for curing skin ailments. Well, no wonder then that this also has been added to Medimix Ayurvedic Face Wash to help keep skin troubles at bay.
Packaging
The Medimix Ayurvedic Face Wash comes in a travel-friendly soft-squeeze tube with a flip-top  cap. It is easy to squeeze out the required amount without any product wastage and the tube packaging helps keep the product hygienic. It comes in two sizes, 100ml (₹100 – buy here) and 50ml (₹60 – buy here).
Texture and Efficacy
The Medimix Ayurvedic Face Wash is a thick, green gel with a fresh fragrance that isn't very strong and doesn't linger. It lathers very well despite being soap-free and cleans the skin thoroughly without making it feel dry. In fact, this facewash feels so gentle that even those with dry skin, who otherwise can't use anti-acne face washes, can use it. For teens who are just starting out on their battle against acne, I would highly recommend the Medimix Ayurvedic Face Wash since it is gentle, effective and affordable.
Ingredients
In case you can't read them clearly in the picture, here are the ingredients:
"Contains extracts of:
Manjishtha (Rubia Cordifolia) – 0.835mg
Haridra (Curcuma Longa) – 0.835mg
Lodhra (Symplocos Racemosa) – 0.835mg
Nimba (Azadirachta Indica) – 0.835mg
Amaya (Aplotaxis Auriculata) – 0.835mg
Kumari (Aloe Vera) – 0.835mg
Inactives: 5-CHLORO- 2 – METHYL – 2H – ISOTHIAZOL – 3 – ONE, 2 – METHYL , 2H – ISOTHIAZOL – 3- ONE.
Colour: Cl 42090, Cl 19140.
My Views
Soap-free, paraben-free, affordable, with six Ayurvedic herbs that have proven efficacy in skin ailments, the Medimix Ayurvedic Face Wash is a must have in your bathroom, even if you just use it around that time of the month. It is very mild, doesn't dry the skin and yet is effective in helping the skin in the battle against acne. I highly recommend it for those with acne-prone skin and for teens. There is also an Anti-Tan variant  available in this face wash which has Tanaka, a bark from Myanmar that acts as a natural sunscreen.
Have you used the Medimix Ayurvedic Face Wash? Have you ever used the Medimix soap to combat pimples? Do let me know in the comments below.
* Disclaimer – PR Sample. Honest Opinion